Can I use 1091A subwoofer with..?
Genelec 1091A was designed to be used with Genelec 1029A's. Genelec 1091A does not have centralized bass management.
However there is two methods below how 1091A may be used with other models:

Method 1 (Recommended)
1091A input sensitivity differs from our current 8000-series product lines. However the 1091A can be used with other model than 1029A with a pre-amplifier that has calibration features and ability to adjust levels and crossover.

On pre-amplifier there has to be set crossover frequency to 80-85Hz. The cable from 1091A to pre-amplifier should be connected to LFE, and monitors to pre-amplifier Right and Left output.

Speakers should be set to "Small" in pre-amplifier settings.

Method 2 (Genelec 8000-series)
If 1091A is needed to be connected to Genelec 8000-series, there has to be more tricks done and the end result may not be as accurate as in Method 1 depending on the model bass-roll-off DIP-switch.

As the input sensitivity differs between 1091A and 8000-series, additional -20dB attenuators are required. You should connect these in between the 8030's outputs and subwoofer inputs. Then you have some room to adjust the gain either from the subwoofer of from the 8030 gain knobs. There are available i.e. from Neutrik.

Additionally bass roll-off should be set ON from the speakers.
Suitable models with -6dB bass roll-off and XLR input & Output:
8030A
8030B
8020A
8020B



Suitable model with -6dB bass roll-off, but requires additional Y-branch cable for connection
8020C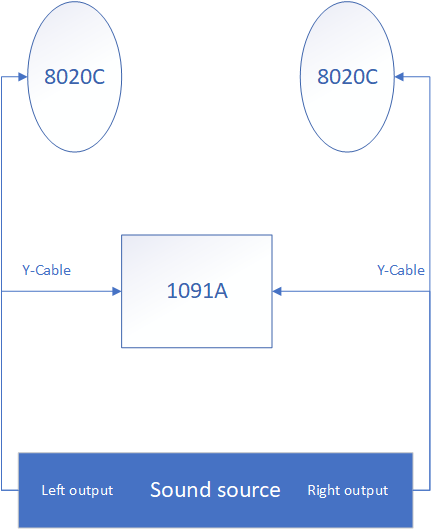 Not recommended , these models have only-4dB bass roll-off:
8020D
8030C
8040B


These models have -4dB bass roll-off DIP-switch and it is designed to compensate room influences to the sound - and not to match the speaker to subwoofer. Therefore attenuation / high pass filter is not sufficient and it is not recommended to use these models with 1091A in critical installations.